The Solheim Cup is a Biannual Competition which the Ladies section at sister Club Company Club Chesfield Downs has invited The Essex Ladies to participate in - with 2021 being the inaugural event for us.
Chesfield Downs was the host club in 2021 and will alternate thereafter - Chesfield Downs represents USA The Essex represents Europe.
The competition is held on the Friday of the week of the International Solheim Cup competition and in line with it, the local event format is 3 singles matches, 3 x 4BBB and 3 x Foursomes with normal competition rules applying.
Squad selection should be made within 6 weeks of the match, allowing the opportunity of practice rounds, which can be made by members adhering to the usual Club Company booking rules.
The tradition continues with a meal following the golf with players, caddies, helpers and supporters from both clubs attending. The cost for this is £TBC per person which will need to be made directly to the Ladies Metro Account using reference Solheim and then your name. We anticipate this being a fantastic day to look forward to, with more details to follow.
First tee times are booked for: 10:08am with Tea/Coffee on arrival and a meal following golf at a cost of tbc person - cost/payment arrangements TBC
LADIES SOLHEIM CUP vs CHESFIELD DOWNS (HOME)
Wednesday 27th September 2023, Red Tees, County Course
(85% handicap allowance)
What a fantastic day the ladies had on Wednesday!! Ladies came over from Chesfield Downs, one of our sister clubs, to play our version of The Solheim Cup. The weather held out for us, windy but nothing the girls couldn't manage. The golf bar, reception and Flight Suite were decorated to perfection, by some of our very talented ladies!!! We had a delicious Halfway Hut provided by more of our gifted ladies, and once everyone was in we were served a delicious Tapas meal. The only draw back to the day was that, being 15 girls battling out on the course, and not starting until well after 12, the last few groups were quite held up, next time two tee start!!!! However , this did not deter from the day and The Essex, representing Europe, had a resounding win, 7-2. Amazing , The Essex Ladies are well deserved winners!!! Here are a few pictures from our day, unfortunately I was not quick enough to get a photo of our Club Champion, Sue Ballard, who also had a resounding victory!!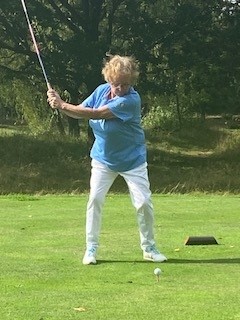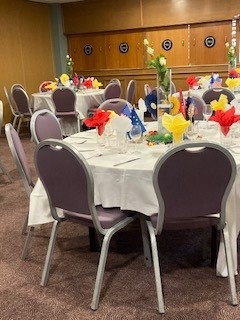 V